ZZ's Top Cocktails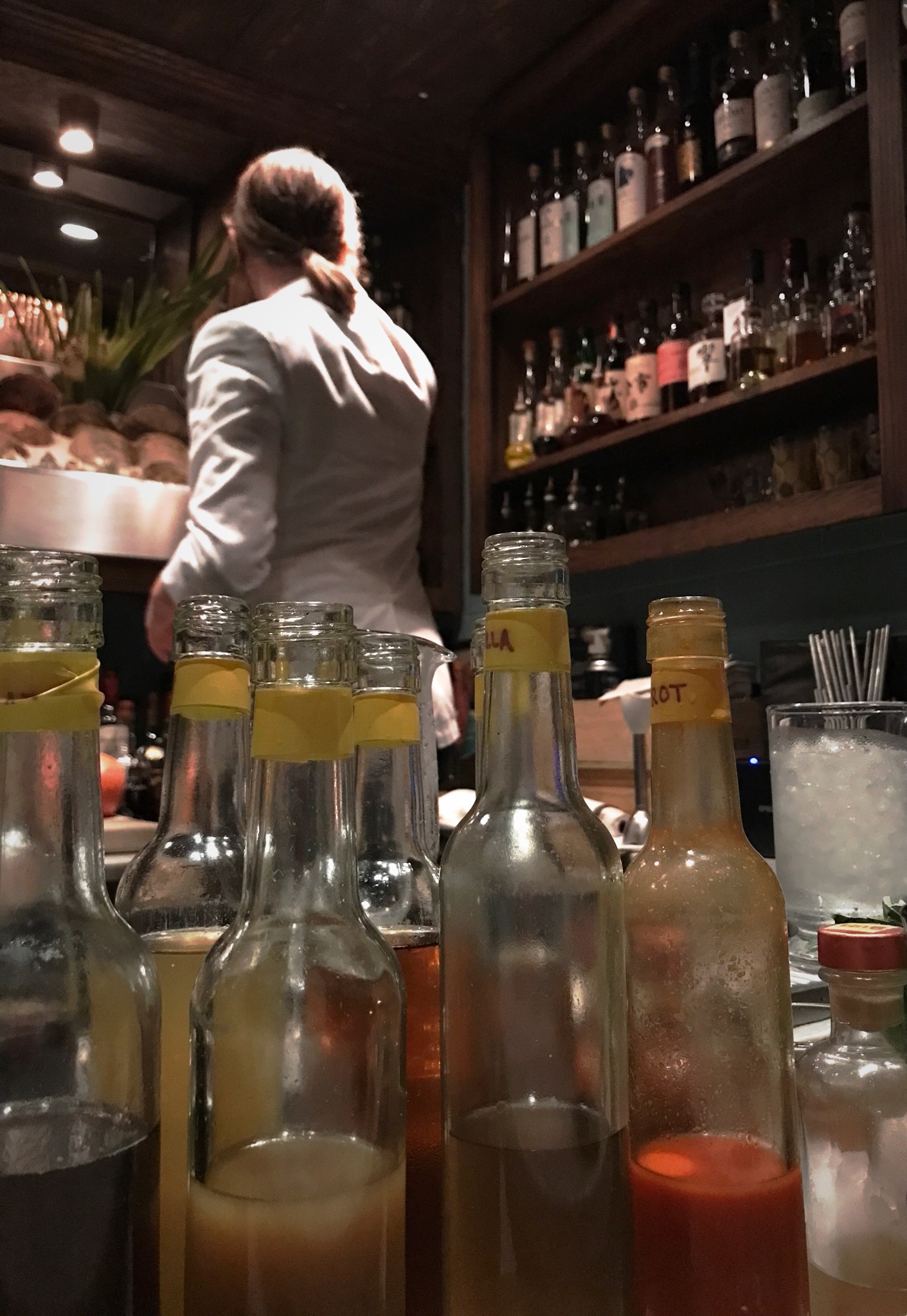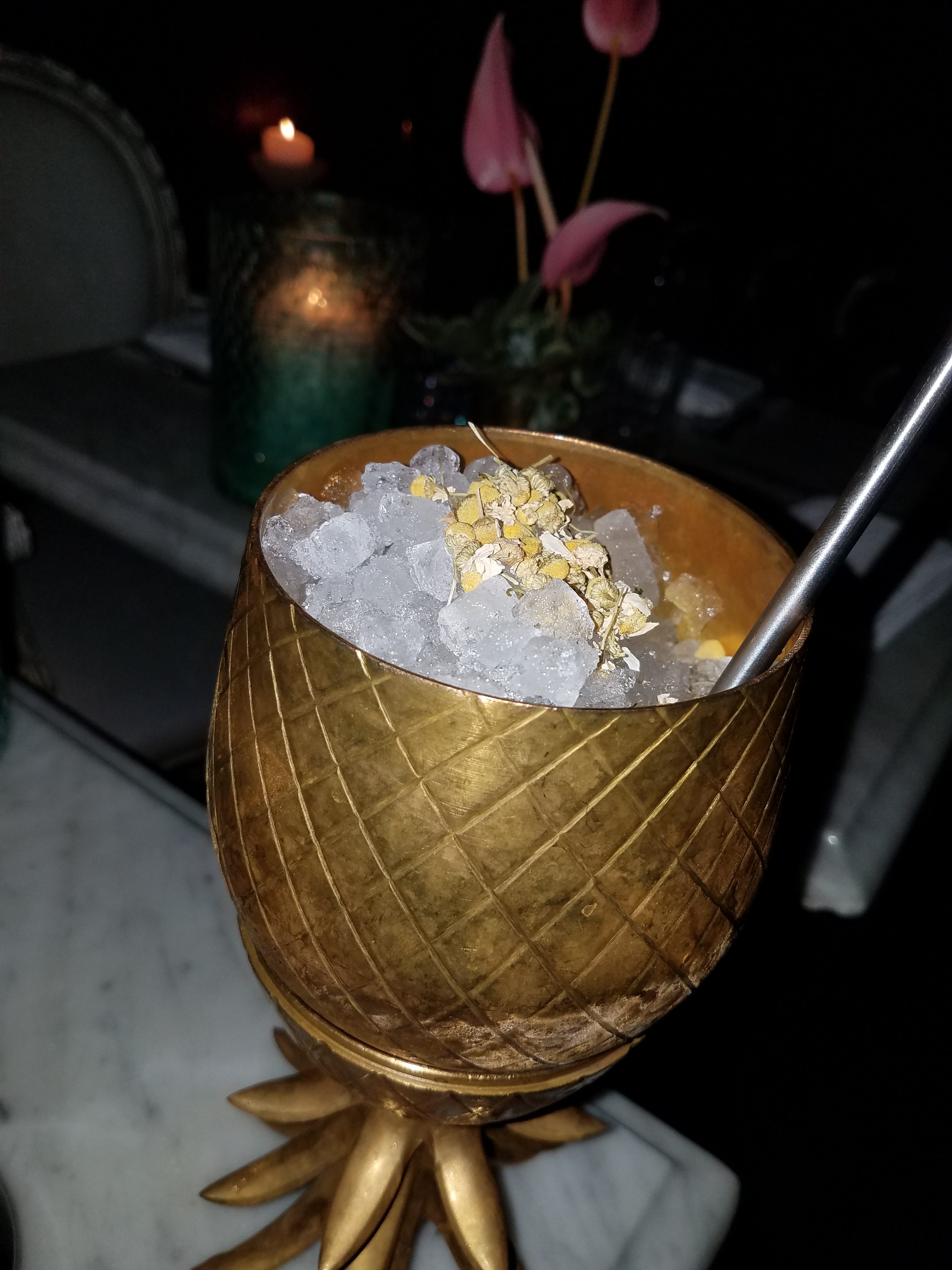 Tucked away behind a huge wooden door on Thompson Street is an unassuming and lively joint called ZZ's Clam Bar.  Being one of the few Manhattanites that opted to stay in the city on Labor Day weekend, I was lucky enough to snag a coveted resy last night at their tiny twelve seater restaurant that feels more like a exclusive Havana speakeasy.   For a few hours I was on an exotic vacation inside the concrete jungle.
I sat down and asked to see a wine list, but my server handed me a cocktail menu instead.  "Trust me," he assured me as a whole coconut with a burning cinnamon bark was delivered to the table next to me.  I opted to stray from my usual end of week glass of chard, and it was well worth the boozy adventure that followed.  It goes without saying that ZZ's raw bar and seafood is excellent and worthy of their Michelin star, but in my opinion the cuisine takes a backseat to the real star: their ridiculously good cocktails.
After an incredible dinner of lobster ceviche, oysters, yellowtail tartare and their signature seafood toasts and carpaccio, I spent about an hour watching Garrett the bartender  Cocktail Messiah bring life to his inventive liquid creations.  Here's a rundown of my faves (yes I tried them all)
-The Coconut- Burnt cinnamon bark, aged Jamaican rum, lime juice, honey and their own house made coconut mix.  The burning cinnamon is a smell that will forever remind me of ZZ's awesome atmosphere.
-The Carrot- (my fave and beverage director Thomas Waugh's signature drink) The base is like a spicy carrot soup mixed with mescal, cumin and chili pepper.  It was a cozy and perfect choice for the first autumn-feeling day of the year.  So good I drank two of them.
-Apricot shots- a blend of apricot tea, fresh lemon, pineapple, bourbon and applejack.  We enjoyed these with our new best friends at the table beside ours who were celebrating a birthday.  Things started to get fuzzy after that, but stay with me…
-The Pineapple- This one was like a refreshing after dinner sorbet, a perfect palate cleanser and a mix of fresh lime, pineapple, house made limoncello, gin and sugar cane syrup.  The drink is served inside a nifty copper pineapple shaped jar (the crowned top lifts off and becomes a pedestal on which the cocktail rests.)
-Chartreuse- Not a fan of this one, or maybe my wicked buzz was just telling me it was time to go.  Either way around 10pm, I turned into a human pinball as I ricocheted off the walls and stumbled out onto the streets of Soho.
It was all well worth the hangover and nothing an Advil and a good brunch can't cure …  ZZ's, you top the charts.